Today I was looking for a Linux based, minimalist, web-based managed, and optimized for server distribution to switch my website. All these demands come with different reasons for me but I was not sure whether I can find a solution that will solve all of this at once. I was searching in Linux Distribution search webpage of DistroWatch.com I found two alternatives as solution and as the last alternative a brilliant idea.
The brilliant idea was modifying Damn Small Linux which is 50 mb. live cd and making it as compact linux webserver. I was planning to use some apt-get and add apache and mysql servers on it.
However, I was lucky enough to start testing with EnGarde Secure Linux distribution which is designed and engineered by Guardian Digital.
After I read about page of the project website, I decided to install and test it. Unfortunately the iso file is very big, 638 Mb. but believe me it is worth it. After I downloaded, I inserted the iso file into Vmware Virtual Machine and booted. You have two option to start with, either you can see in Live mode or choose Install and install it.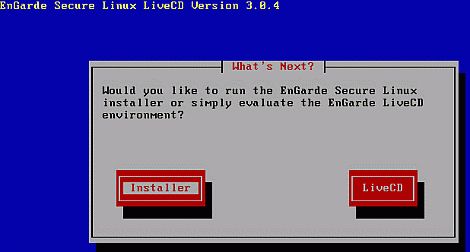 I start with Live Mode, but could not get the web console at first, then I checked their web page and learnt that I should try with 'https'. If you happen to start with live mode, do not forget to check Default Passwords page. Otherwise you can not login to the system. After I see it on Live mode, I decided to install and see if it is really stable or not.
In installation mode, you have several server options depending on your needs.

Since I was planning to use it for webserver, I choose webservices. When you choose Web Services, Databases and Mail Services are choosen automatically. Yes, that's ALL. It starts installing appropriate packages instantly. After installation is completed, you need to reboot. Next time you booted the computer, you can start using Webmin control panel interface from https://ip_address:1023/ Webmin interface touches every point of system, if you don't feel comfortable with terminal, this is good news.
As you see, server installation is made easy, you don't even need to know Linux. Next-next style installation makes everything that simple. I took some screenshots from control panel:
Services Menu:


System Menu: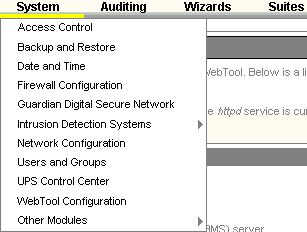 One last point I want to mention is the free Update Service. Since security issue is a huge concern for servers, keeping servers up-to-date is one of the crucial problem especially for Linux based servers. Each time there is an update for packages, you have to go through a lot of work to update those packages. This is again made easy by this distro. After I completed installation, checked if there is an update, there was one about CGI libraries and it is done automatically.


To sum up the advantages I've seen:
Very easy to install and configure
Intuitive Webmin based control panel
Update service
Good documentation
The features and advantages mentioned on official website:
EnGarde Secure Linux technical features include:
Linux 2.6 kernel for the latest hardware compatibility
SELinux Mandatory Access Control provides high security by strictly enforcing service separation at the kernel level
Guardian Digital Secure Network features free access to all system and security updates and allows for quick and easy updating of the entire server
Broad support for server hardware, including 64-bit AMD architecture and hardware RAID
Web-based management of all functions, including the ability to build a complete web presence with FTP, DNS, HTTP, SMTP and more
Secure up-to-date LAMP stack serves virtual websites with Apache v2.0, MySQL 5.0, and PHP 4.4 (PHP 5.0 available as an optional package)
Latest BIND 9.3 provides secure DNS services
Completely new WebTool, featuring easier navigation and greater ability to manage the complete system via a secure web browser connection
RSS feed provides ability to display current news and immediate access to system and security updates
Integrated firewall with ability to manage individual firewall rules, control port forwarding, and creation of IP blacklists
Commercial grade Network Intrusion Detection System displays and graphs incoming attacks in real time
Built-in Host IDS monitors system files for unauthorized changes to ensure system integrity
Built-in UPS configuration provides ability to manage an entire network of battery-backup devices
Real-time access to system and service log information
To conclude with this distribution is one of the most professional and good engineered distribution I've ever seen in OpenSource community.
Basically, it is a commercial solution which also allows personal usage.